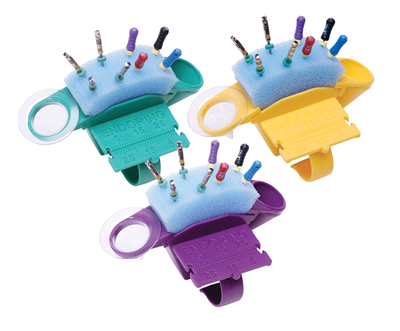 EndoRing® II Hand-held Endodontic Instrument - COLOR PACK
The colored EndoRing II organizers add the dimension of color coding to instrument set-ups. Like the original blue EndoRing II organizer, the new colors enable the clinician to directly place, store, measure and clean endodontic instruments within the operating field. Together they reduce the risk of cross contamination and minimize the passing of sharps between dentists and staff. Using the EndoRing II organizer helps make endodontic procedures safer and faster.
Each bagged pack contains: 3 EndoRing II Assemblies
1 Green
1 Violet
1 Yellow
3 Single Use GelWell

®

Cups
Each assembly contains
1 EndoRing cup
3 finger rings (S, M, L)
1 GelWell® adaptor ring
1 GelWell® reusable cup.
Optional metal ruler sold separately.
Jordco® e-Foam® Inserts sold separately.
---
Share this Product
Related Products