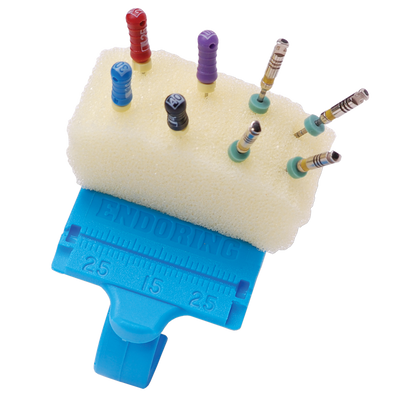 Original EndoRing® Hand-held Endodontic Instrument
The Original EndoRing organizer enables the clinician to directly place, store, measure and clean endodontic hand and rotary instruments within the operating field. The Original EndoRing offers a smaller profile and does not contain the GelWell® system found with the EndoRing II.  It reduces the risk of cross-contamination and minimizes the passing of sharps between dentists and staff.
While we still offer the Original EndoRing for sale, we recommend using the new and improved EndoRing II for the same price.  
Each pack contains: 
1 Original EndoRing Assembly
Each Assembly Includes:
1 Original EndoRing Cup
2 Finger Rings (S, L)
Optional metal ruler sold separately.
Jordco® e-Foam® Inserts sold separately.
---
Share this Product
Related Products